Who Was Edgar Allan Poe?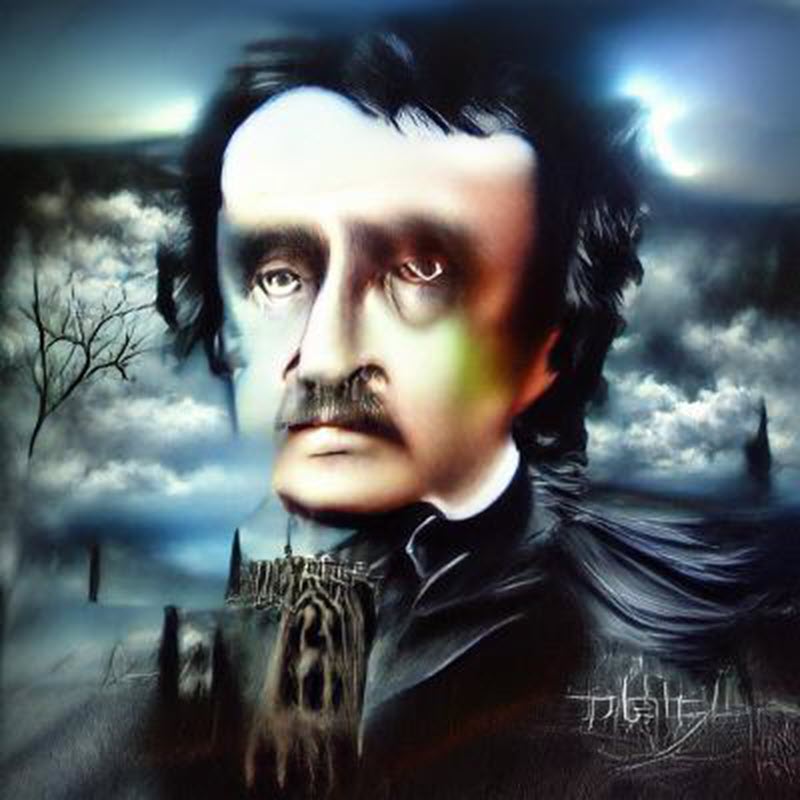 The Tortured Soul of Edgar aAllan Poe
Edgar Allan Poe (January 19, 1809 – October 7, 1849) was an American writer best known for his macabre short stories. He is considered the first writer of detective fiction.
Many of Poe's stories, for example the Pit and the Pendulum, the Fall of the House of Usher, and the Raven, remain very popular and have entered popular culture through movies and allusions in other works.
Here you will find a complete collection of the works of Edgar Allan Poe.
Edgar Allan Poe lived a tragic life. His parents both died when he was only two, and this tragic loss would taint his personality with a sadness and melancholy which was reflected in his writings.
The orphaned Poe was adopted by John Allen, a wealthy merchant, who provided well for Poe but was emotionally distant and unavailable. As a young man Poe was sent to England to study, and so he lived without close family support or connection. Upon his return to the United States, Poe enrolled in the University of Virginia. He showed promise as a student but developed an addiction to gambling at cards and was forced to leave his studies after only one semester because of mounting debts.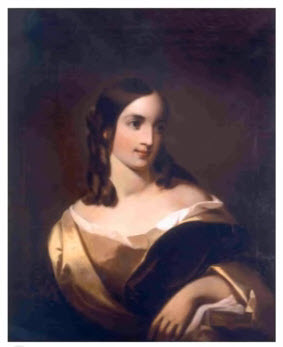 Poe's Wife, Virginia Clemm
---
Poe's profligate lifestyle further alienated him from his adoptive father, who cut him off from financial support. Poe then enlisted in the United States army as a private under the name Edgar A. Perry. After serving for a year, Poe returned to his adoptive father's home in Richmond, Virginia and remained there for a year, drifting aimlessly. He then enrolled in the military academy at West Point as a cadet but quickly ran into trouble for failing to obey orders and other lapses of discipline. He was finally dismissed from the United States Army.
Poe once again found himself without a career, without a plan, or a direction in his life. While he was at West Point, his adoptive father's wife had died and Allen had remarried. Allen and his new wife would eventually have a child together, a half brother to Poe.
When his adoptive father also died, his estate was left entirely to his young son, while Poe was not even mentioned in the will. Completely bereft of family and resources, Poe was now on his own. He would turn to literature as his chosen career.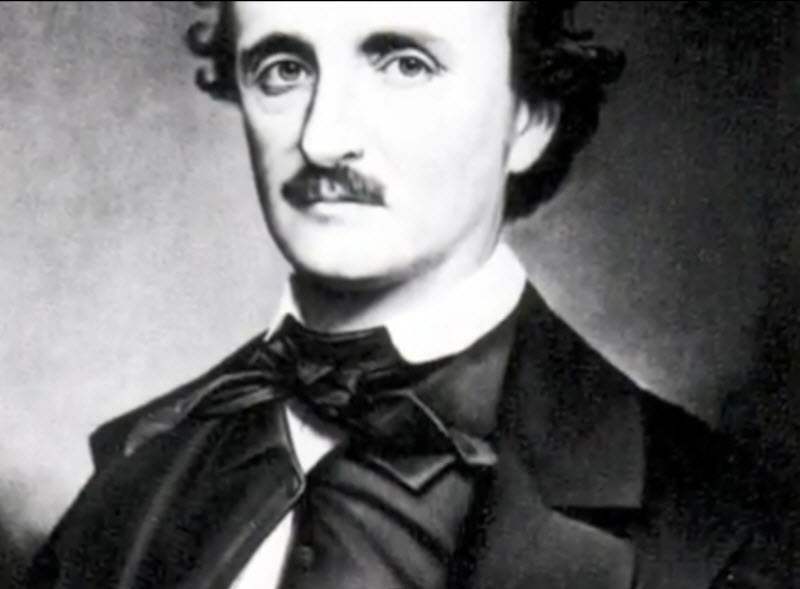 Edgar Allan Poe, from a contemporary portrait.
His short but remarkable literary career would span only 15 years during which time Poe eked out a living writing for periodicals and sometimes working as a en editor for magazines. Always pressured to earn money, and hampered by a growing dependency on alcohol as well as his old gambling habits, Poe's literary output was uneven. It varied wildly from workmanlike poems and forgettable short stories to literary classics that have endured in popularity to this day, and have influenced many writers and filmmakers.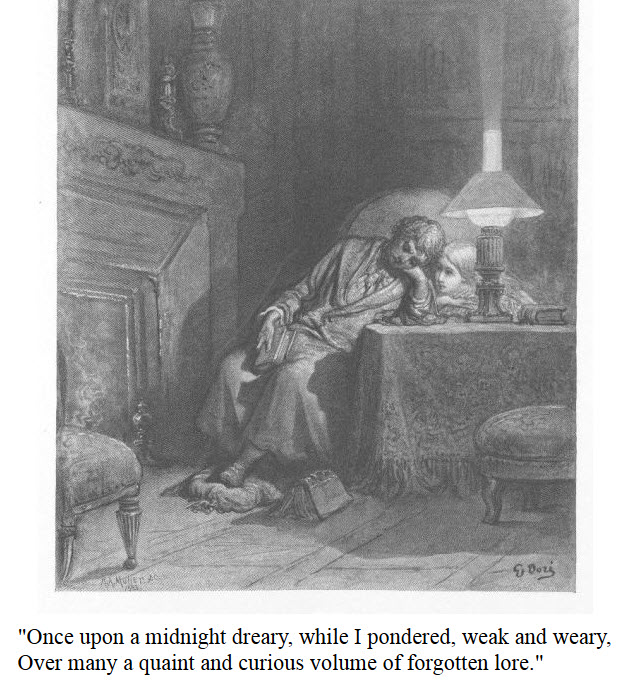 The Raven by Edgar Allan Poe
Despite his success as a writer, Poe continued to face hardship and tragedy and financial difficulties. One of his best known works "The Raven: was a publication success and made Poe a well known writer, but he was paid only $9 for its publication. (Recently a copy of Poe's first book, Tamerlane and Other Poems - a commercial failure at the time of publication - sold for over $600,000 at auction). He was under a lot of financial pressure and now had to also support a wife. When he was 27 Poe married his 13 year old cousin Virginia Clemm. Virginia was to die 7 years later from tuberculosis. The stress of her illness and the sadness at her death influenced Poe's writing and was the inspiration for some of his macabre works, and also pushed Poe further into alcoholism.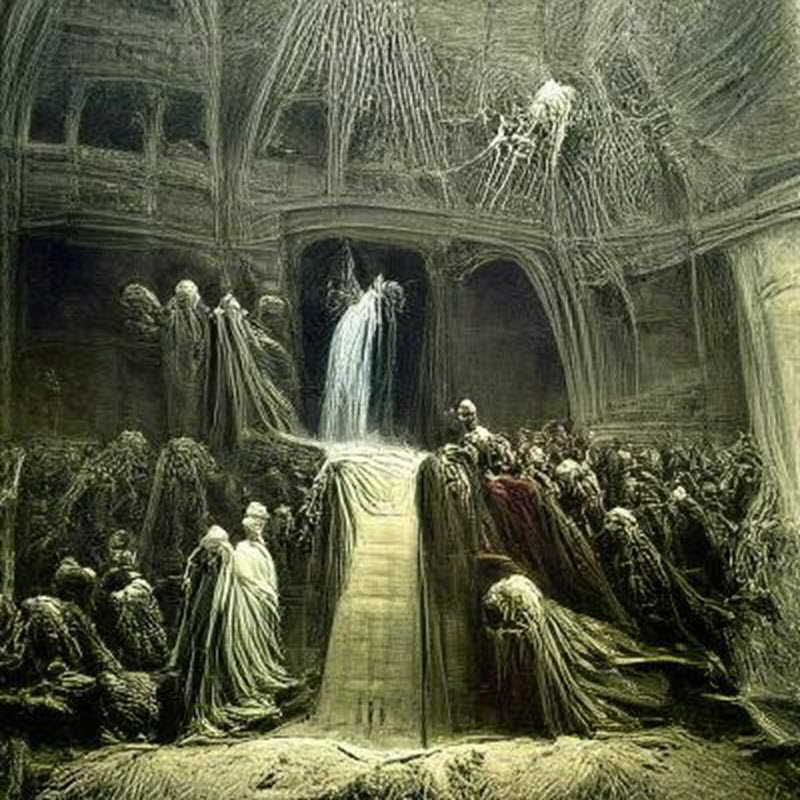 The Morbid Imagery of Edgar Allan Poe
Not long after her death, on October 3, 1849 Poe was found delirious in the streets of Baltimore after disappearing a week before on his way to New York by train. He was taken to hospital and died on October 7. Ironically, given that Poe is often credited for inventing the detective short story, the cause of Poe's death as well as the circumstances leading up to it are mysterious. For example, Poe was found wearing clothes that did not belong to him. It has been speculated that Poe died from acute alcoholism, or he may have been the victim of foul play.
The Life and Legacy of Edgar Allan Poe
The commonly held belief that Poe was an uncontrollable drunk, and perhaps even an opium addict, was ingrained in the public consciousness as a result of an obituary written by Wilmot Griswold, an anthologist who had harbored a long standing grudge against Poe. He depicted Poe as a deranged and depraved madman, hopeless drunk and addict. While Poe did have a problem with drinking, he was not a drug addict and those who knew him disputed Ludwig's portrayal as grossly exaggerated. But the depiction stuck, even though there is no concrete evidence that Poe actually died from alcoholism.
In a further irony, Ludwig managed to become Poe's literary executor by claiming that Poe had asked him to act in that capacity, even though there is no evidence that that was the case. Despite Ludwig's attempts at character assassination, Poe is generally regarded as one of the United States' most important writer and a pioneered in the development of detective fiction (The Purloined Letter, The Murders of the Rue Morgue) as well as macabre fiction such as The Fall of the House of Usher, the Telltale Heart and the Cask of Amntallado. Some of his stories even presaged modern science fiction.
Literary Legacy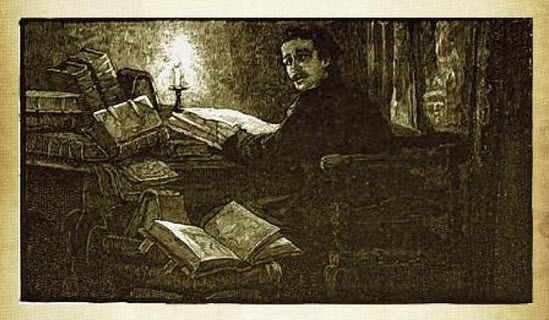 Edgar Allan Poe - Literary Legacy
Edgar Allan Poe was far from a perfect writer. Even his best works have been harshly criticized by critics. The poet William Butler Yeats called it "insincere and vulgar". Several authors claimed that Poe had plagiarized their work.
However taken as a whole, Poe had a titanic influence on the arts and popular culture. He invented the detective story, and was a direct precursor to Sherlock Holmes and other famous literary detectives. He also influenced the development of other genres such as science fiction, and stories of suspense and the macabre.
In an odd twist, Poe's real life fascination with cryptography influenced other writers as well as the course of history. Poe was in the habit of placing ads in the newspapers that he edited daring readers to send him messages in code that he could not break. No one ever came up with a cryptographic code that Poe could not break.
Poe made cryptography a central feature of his story The Gold Bug, and it set off a popular craze in America for cryptography. William Friedman caught the code breaking bug after reading the Gold Bug and went on to have a career in the Army's Signals Division Service. During World War 2, Friedman and his team broke the Japanese military codes which allowed the U.S. to intercept Japanese radio traffic including information about naval movements.
Poe's literary works, as well as his style, continue to influence other writers and even filmmakers. His short stories and novellas such as The Fall of the House of Usher have been made into numerous movies. His works are often references in other works, and sometimes even parodied, but never forgotten.
The best known works of Edgar Allan Poe include:
Edgar Allan Poe Online offers a comprehensive collection of Poe's short stories and poetry. The Edgar Allan Poe Collection is a part of Book-Lover.com