---
Book Lover > Edgar Allan Poe > Virgina Clemm
Virginia Clemm, The Teenage Wife of Edgar Allan Poe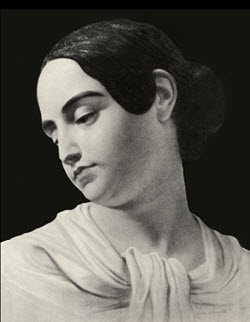 Virginia Clemm (August 15, 1822 – January 30, 1847) was the first cousin and teenaged wife of the author Edgar Allan Poe. The two were related on his mother's side: Virginia's mother, Maria Clemm (nee Poe), was the sister of Poe's mother.
The two first met when Virginia was only seven years old and Poe was twenty-two. They lived together off and on prior to their marriage, as part of Maria Clemm's household and by the time Virginia was 13, and Poe was 22, the two had fallen in love. Despite opposition from some family members, the two were married. Although marriage among first cousins was not too unusual in Poe's era, Virginia's was definitely too young to marry. But she was able to get a marriage license and be married by a chinch minister by lying about her age and claiming to be 21; her father filed a perjured affidavit confirming Virginia's age as 21.
There has been some speculation about the true nature of the relationship between Poe and Virginia. The fact that they did not have any children has led some to suggest that the relationship was platonic, and that they never consummated their marriage. However their relationship appears to have been romantic and they were devoted to each other. Poe spoke and wrote glowingly of his beautiful wife and she said to have idolized her husband, sitting close to him as he wrote and keeping his pens and writing papers in order. George Rex Graham, a publisher who once employed Poe in one of his newspapers, wrote that "His love for his wife was a sort of rapturous worship of the spirit of beauty."
Despite frequent periods of poverty Poe tried his best to provide his wife with a good home, even buying her a piano to satisfy her love of music, despite his meagre funds. However a scandal involving allegations of an improper relationship between Poe and another married woman hurt Virginia very deeply, and on her death bed she is said to have remarked that
In 1842, Virginia developed tuberculosis and slowly wasted away and died five years later at the age of only 25. The two had been married 9 years. Her only known portrait was painted immediateley after Virginia died, when Poe realized that he did not have a picture to remind him of his wife. He hired an artist who used Virginia's dead body as a model; the painting shows a woman who looks far younger than 25, and one has to wonder how she could ever have passed for 21 when she married at age 13.
Virginia's death left Poe inconsolable. He had always suffered from alcoholic tendencies, but he had tried his best to abstain from alcohol for the sake of his wife. However her death sent him into a downward spiral and he began drinking again after many years of sobriety.
Many of his writing just before her death and afterwards, which feature beautiful dead women, whose memories haunt the male protagonists, are believed to be based at least in part on Virginia.