Elizabeth Poe
Elizabeth Arnold Poe (born Elizabeth Arnold), born in 1787, died in 1811, was an American actress of English birth and the mother of the American writer Edgar Allan Poe.
Elizabeth's mother was an English actress who emigrated with her daughter to Boston, Massachusetts, where she continued her acting career and also introduced her young daughter to the stage. Elizabeth began acting at the age of nine, and enjoyed positive critical reviews and public acclaim from an early age.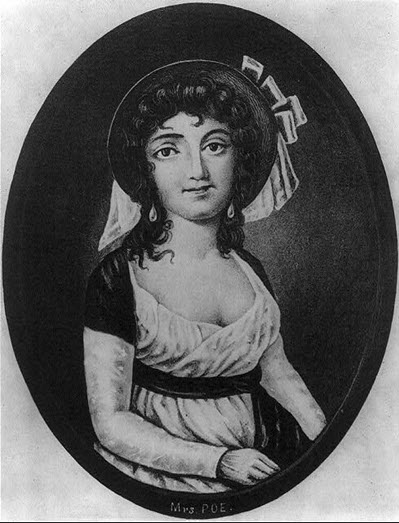 Her mother died at an early age and she was raised by the acting troupe she worked with, traveling from town to town. She married at the age of 15, to an older musician, but was left a widow at 18 when her husband died of yellow fever. She remarried only six months after the death of her first husband to David Poe, Jr.
David came from a family of renown and wealth; his father had won fame in the American Revolution and had been a friend of the French General Lafayette. David was studying law when he saw the young 18 year old actress performing on stage in Norfolk, Virginia. Smitten with her, David abandoned his law studies and joined her traveling troupe of actors as they performed throughout the United States. Reviews of David Poe's acting were generally negative.
The family led an itinerant lifestyle, performing in various places throughout the United States, from small venues to large concert halls. Elizabeth is said to have played over 300 different roles ranging from light comedy to characters from Shakespeare such as Juliet. She continued to act despite having two sons in rapid succession, William Henry Leonard, born in January 1807 and Edgar Allan Poe, born in January 1808. She was pregnant with her third child, a daughter named Rosalie, when Edgar's father abandoned the family. His subsequent fate is not clear but it is likely that he drank himself to death.
Soon afterwards, in 1811, while on tour with her acting company Elizabeth began coughing up blood. As her health deteriorated, the Poe family fell on hard times. Prior to her death the acting community held fundraisers for the Poe family, who had been left impoverished when the father left and destitute once Elizabeth could no longer act.
Elizabeth Poe died in 1811, likely of tuberculosis, at the age of only 24. Her children, William, Edgar (then aged 2) and Rosalie were split up and adopted by different families.
The early loss of his mother affected Edgar Allan Poe deeply and is likely the root of his preoccupation, reflected in his writings, with young women who die prematurely.